26 marzo, 2017 / Comentar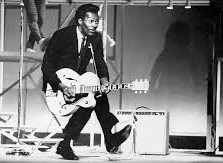 Playlist compartida con Einfer con el que siempre es un gusto escuchar, curiosear y coversar sobre música en Caramuel.
Bill Haley. See You Later Alligator >< The Crickets. I Fought The Law >< Spanky Wilson. Sunshine Of Your Love >< Shirley Ellis. The Clapping Song >< Los Coronas. Rockaway Surfers >< Steppenwolf. Magic Carpet Ride >< Hawkwind. Siver Machine >< The Temptations. Ball Of Confusion >< The Isley Brothers. Testify >< Chicago. I'm A Man >< Spencer Davis Group. Searchin' >< Julie Driscoll, Brian Auger & The Trinity. Light My Fire >< Elvis Presley. Whole Lotta Shakin' Goin' On >< Humble Pie. Buttermilk Boy >< Delaney & Bonnie. Free The People.

CARAMUEL_118_Einfer
[ 1:35:05 ]
Reproducir Ahora
|
Reproducir en Popup
|
Descarga
Comentarios