17 marzo, 2022 / Comentar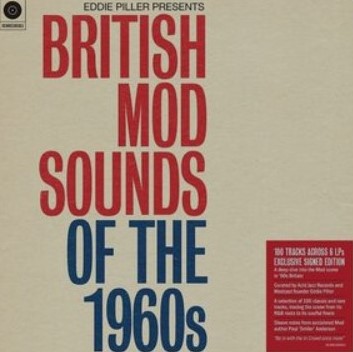 Eddie Piller, DJ británico presentador de programas de radio, fundador y director de Acid Jazz Records y cofundador del fanzine de Mod Revival Extraordinary  Sensations, ha publicado en 2022 una recopilación de cien temas, que mezcla grupos de referencia, como Small Faces, The High Numbers, The Action, The Fleur De Lys con futuras estrellas David Bowie, Rod Stewart, Elton John, Marc Bolan y bandas raras, bajo el título British Mod Sounds of the 1960s, que refleja la variedad de sonidos que recoge el término Mod. Escuchamos una pequeña selección de temas.
P.P Arnold. If You Think You're Groovy >< Billie Davies. Wasn't You >< Dusty Springfield. Little By Little >< Maxine Silverburg. A Love I Believe >< Madeline Bell. Picture me Gone >< Sharon Tandy. Hold On >< Mike Stevens & The Shevelles. The Go Go Train >< The Organisers. Harold Smart >< Apostolic Intervention. Madame García >< The Soul Agents. The Seventh Son >< Wynder K Frog. Henry's Panter >< The Quik. Berts Apple Crumble >< The Rocking Vickers. It's Alright >< Elton John with Bluesology. Come Back Baby >< Jimmy James & the Vagabonds. Ain't No Big Thing >< Timebox. Soul Sauce >< Fearns Bass Foundry. Don't Change It >< The Gods. Garage Man >< The Syndicats. Crawdaddy Simone >< James Royal. A Little Bit Of Rain >< Bonus Track. The Carnaby. Jump & Dance >< The Carnaby. Jump & Dance >< Fleur De Lys. Circles.

CARAMUEL_239_British-Mod-Sounds-Of-the-1960s
[ 1:08:00 ]
Reproducir Ahora
|
Reproducir en Popup
|
Descarga
(31)
Comentarios